Recreational Activities
The perfect option to enjoy the best attractions in Cancun and Riviera Maya is to enjoy the natural, cultural and adventure wonders in our parks and tours, which can be combined with special services for your group such as: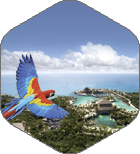 We invite you on a journey through Mexico; a charming tour of traditions and nature at Xcaret eco-archaeological Park. Your group will enjoy an unforgettable experience that includes performances, exquisite cuisine and the joy of a country that welcomes you with open arms! Venture through Xcaret´s trails to discover the perfect combination of Mayan jungle and culture of Mexico in more than 50 exciting attractions. Located by the sea, at the Riviera Maya and near Cancun, Xcaret has attractions for everyone: besides the cultural and natural attractions included in your admission you can enjoy Extraordinary Activities at an additional cost. Get to know them and enjoy your favorites, There is certainly a variety to fit everyone´s taste!
• Adrenalina:
Is an exciting ride on a fast boat at Xcaret Park´s turquoise waters. Once on board, you will ride the waves at a high speed and feel the breeze on your face while you experience 360° turns.
• Adventure Kids:
Is an activity with which children have fun and learn about nature at Xcaret, interacting with nurse sharks and small stingrays on a natural lagoon, in a completely safe and controlled environment.
• Gran Tlachco Dinner:
Gran Tlachco Theater hosts the colorful presentation "Xcaret México Espectacular", one of the main attractions at Xcaret Park. Your group will be able to enjoy it from the best seats, with an exclusive three-course gourmet dinner that combines the flavors and scents of Mexico, and a dessert. An experience you will never forget.
• Pairing at Xcaret Wine Cellar:
Delight your group with unique dishes and Mexico´s renowned wine, in a cellar that astonishes by its beauty and style. This gastronomical activity begins with a journey through the history and development of Mexican wine and later a wine tasting guided by Xcaret´s expert Sommelier and a pairing with dishes that the Chef has created especially for this occasion.
• Sharks Interactive Adventure:
Xcaret Park gives you the opportunity to interact with nurse sharks in a safe and fun way. Learn about the life of this interesting species in a swim with sharks activity that´s unique in Cancun and Riviera Maya.
• Stingrays Encounter:
Enjoy snorkeling in the crystal-clear waters of the Caribbean while you surround yourself with friendly stingrays that seem to fly underwater. Learn more about their behavior, admire their large fins, and even feed them during this interactive activity that will take you closer to nature and to species´ conservation.
• Sea Trek with Stingrays:
Walk under water while you breathe with a Sea Trek® helmet and meet the majestic stingrays that inhabit the waters at Xcaret Park. This innovative activity allows you to breathe comfortably at a depth of 11 feet, while expert instructors show you the natural habitat of stingrays and tropical fish in a true underwater paradise.
• Sea Trek ®:
All you need for this activity is a swimming suit; we provide a Sea Trek® helmet to breathe during an underwater walk, even without getting your hair wet! Use it and discover the underwater secrets of Xcaret Park. Expert instructors will show you the best subaquatic communication to have the most comfortable and fun experience.
• Snuba® Arrecife:
This Reef Snuba® activity allows you to discover the secrets of Barracuda Reef, located just in front of Xcaret Park in the Caribbean Sea. Dive at your own pace with the guidance of expert instructors that will explain everything you need to practice this accessible activity.
• Snuba® Family:
The innovative Snuba® breathing system allows you to have the freedom of snorkeling combined with diving technology. Explore the seabed with Snuba® Family and become a true explorer of the ocean depths. This is an ideal activity for groups with members of various ages because the equipment is easy to use.
• Temazcal:
We invite you to participate in a pre-Hispanic tradition to reconnect with nature and achieve a state of mental and physical relaxation. The Temazcal in Mexico is an ancient ritual that unifies the four elements in a process that includes aromatic herbal steam, created by the interaction of volcanic rocks with Caribbean fresh water. The activity finishes taking a refreshing dip in Xcaret´s underground rivers for a complete cleansing experience.
• Snorkel Tour:
Your adventure begins when you sail the Caribbean Sea in a fun boat to get to a nearby reef, where you will find colorful mosaics of fish and coral gardens in an amazing underwater world. There is no better place to enjoy a full day of fun!
• Xpá:
Is a charming concept that offers a selection of massages focused on relaxing your body and spirit. Located in a peaceful lagoon originated by underground rivers, this area is ideal to pamper your senses and comfort your body during your visit to Xcaret. Choose your favorite massage and enjoy it in a traditional way or experience it in a hammock, a unique style! Try traditional Mayan treatments, a refreshing shower under a waterfall or simply let yourself be enveloped by the vivid nature of the Xpá.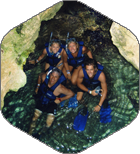 Xel-Há, one of the amazing attractions in Cancun, Riviera Maya, Mexico, is a site considered the largest natural aquarium in the world, the perfect place to spend a fun day with your group in the Riviera Maya. For nature lovers, there is no better place than Xel-Há to practice snorkeling and water activities like swimming with dolphins, Snuba® (a combination of snorkeling and diving) or Sea Trek® (an underwater walk). Your admission includes unlimited drinks, a delicious power breakfast in the early morning and, after 11:00 a.m., a complete buffet lunch.
• Manatee encounter:
A chance to come face to face with this docile species, learn about their biology and anatomy, their habits and way of life. You can also hug, pet and even feed them.
• Stingray Encounter:
For all who love and enjoy marine life, Xel-Há offers a unique encounter with rays, where you can interact with this unique species and learn about their biology, anatomy, habitat and their natural friendly nature.